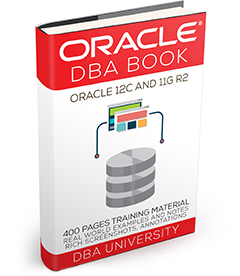 Oracle RMAN Training
Overview
One of the most important responsibilities of a Database Administrator is Backup and Recovery. Oracle database provides features for both offline and online backup of a database. Oracle supports both Manual Backup (User-Managed) and RMAN Backup. Using RMAN, one can directly backup databases to tape storage as well.
Be strong in RMAN Backup and Recovery
Almost EVERY Oracle DBA job description contains the line "Must have very good RMAN Backup and Recovery skills". In short, if you are strong in Oracle RMAN, you can do very well in job interviews. Also in the REAL WORLD, the Oracle DBA spends almost 30% of his time in taking backups, monitoring backup jobs and performing database cloning (create test databases) using these backups.
RMAN is part of our Oracle DBA course.
We are currently offering a world class Oracle Database Administration training programme for interested students and professionals. Registration for our Oracle classes is open for anyone in the world because it is an online course. Almost 25% of the training is dedicated to Backup and Recovery topics.
 Backup and Recovery topics covered in the Course.
1. Taught by Srini Ramineni (Founder of DBA University with 12+ years of rich work experience)
2. Saturday, Sunday 8:00 am to 12:30 pm Central Time (with a 30 min break). Almost 30% of the Oracle DBA training is dedicated for Backup and Recovery topics below.
3. Introduction
4. Cold Backup
5. Database in ArchiveLog mode
6. Hot Backup
7. How to clone a database using Cold Backup
8. How to clone a database using Hot Backup
9. How to recreate source database from backups
10.Differences between RMAN method and manual method
11.Database backup using RMAN. Advantages of RMAN Technology.
12.Database backup using RMAN compression mode
13.RMAN catalog Schema
14.Database backup using RMAN catalog schema
15.How to clone a database using RMAN duplicate (11g R2 new feature: Backup based duplication)
16.Introduction and overview to Backups to Tape
17.Flashback Database and Flash Recovery Area for better management of backups
18. $599 only.Click HERE to REGISTER for Training (OR) FREE DEMO SESSION.